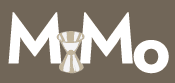 Well, its that time of the month again. But its also our first
Mixology Monday
since starting this new blog. Our host this time around is Craig at
Tiki Drinks & Indigo Firmaments
and his chosen theme is
Spice
.
Spice should give you plenty of room to play - from the winter warmers of egg nog, wassail and mulled products to the strange and interesting infusions of pepper, ceubub, grains of paradise, nutmeg — what have you! I would like to stretch the traditional meanings of spice (as the bark, seed, nut or flowering part of a plant used for seasoning) to basically anything used for flavoring that isn't an herb. Salt? Go for it. Paprika? I'd love to see you try. I hear that cardamom is hot right now.
As you can imagine as I read that images of my own Spice, spiced rum to the knaves, danced through my head. Visions of allspice, cloves, nutmeg, star anise, cinnamon, and Madagascar Vanilla beans all entered my mind. But as usual I was pretty slow on the uptake and Kelley kindly reminded me that I didn't have nearly enough time to make a spiced rum infusion before the deadline. I did, however, have time for an old stand by of mine. One that I have been doing for quite some time and can have done in as little as 2 days if necessary,
Chile-infused Tequila
.
It's quite simple really.
1 bottle mid-grade silver tequila 100% Agave. I used Sauza Blanco
6-15 Dried chilies. I used about 7 Serranos.
Slice peppers in half, lengthwise and de-seed if desired. I usually de-seed about half of them but I like it with some real kick. Drop peppers into tequila bottle, recap, and store in a cool, dark place. Let it sit at least 48 hours, until it starts to turn gold, but I've let it go for up to 15 days. It got HOT.
When you pour it into a shot glass, it has a very pale golden hue. The nose is very salty and smells of generic silver tequila with not much else behind it. An initial taste of this neat will give you tequila upfront, as smooth as you can expect from a silver tequila. But the chile flavor explodes immediately behind it hitting mid and back palate with a burst of red chile flavor. There is a decent burn at the back of your throat but not unpleasant, akin to eating a good, hot salsa. It also leaves and nice tingling burn on the lips longer than anywhere else, again not unpleasant, but more like the burn from eating a jalapeno.
So I think we established this really isn't for sipping or shots, unless you're trying to grow hair on your balls or you're a Texan. So really, Jon, what the hell is the point of making spicy-as-shit tequila? For mixing, you silly goose. So tonight we made,
Red-Chile Guava Maragaritas
.
I stole this particular recipe from the notorious foodies over at
Chowhound
. Its delicious, easy to make, and well I had all the shit to make all this in my kitchen. So everyone groaning that our first MxMo doesn't contain an original cocktail recipe can just eat my ass.
To make the Red-Chile Margarita you take:
1 1/2 parts Orange Liqueur (Generic Triple Sec works just fine)

1 1/2 parts guava nectar ( I used Jumex)

1 part fresh orange juice (Go fresh squeezed or at least Simply brand)

1 1/2 parts fresh lime juice (Go fresh, trust me)
I usually make a pitcher, chill for at least an hour and serve over ice.
The drink itself is quite wonderful, its a yellowish-orange similar to watered down orange juice. That's probably due to the brand of guava nectar I used being a very dull color as opposed to the pinkish hues Ive seen in the past. But on to the important part, how it tastes. It enters like an orangey tequila based drink, similar to a Tequila Sunrise but distinctly different. Around mid palate the chile undertone hits and stays with you through the finish and lingers pleasantly on the lips. After you get a few guzzles into the drink all the flavors begin to come on at the same time and play remarkably with each other, it really is the perfect balance of sweet, spicy, and sour. This is definitely an ideal drink for the summer, with some carne asada on the grill.